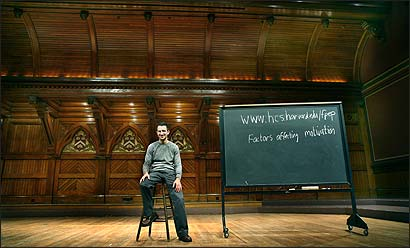 'Positive psychology' draws students in droves.
The final numbers came in this week: Positive Psychology, a class whose content resembles that of many a self-help book but is grounded in serious psychological research, has enrolled 855 students, beating out even Introductory Economics.
Wellington College
This autumn term, students at Wellington will be the first in the world to start regular lessons in well-being (known colloquially as 'happiness').
From later this week, girls and boys in years 10 and 11 (aged 14+ and 15+) will have a 40-minute timetabled lesson on 'the skills of well-being' every fortnight for two years. The lessons will give them an understanding of what factors help a life to thrive and flourish, as well as teaching them some practical skills for everyday use.
The unique curriculum has been devised for Wellington by Dr Nick Baylis of the University of Cambridge (www.CambridgeWellbeing.org), one of the world's leading specialists in the science of well-being. The approach is founded on the principle of studying lives that go particularly well, and then using that knowledge to develop and apply strategies and skills that promote all-round progress in a person's psychological, physical and social life. Importantly, the curriculum takes a rounded approach to the subject of life development, combining a core of positive psychology with teaching on a range of other key factors such as sleep, nutrition and exercise. Ten of the school's existing teachers are being trained to deliver the curriculum, led by Wellington's Ian Morris, who has devised the classroom applications in close collaboration with Dr Baylis.
¿Cuándo nos daremos cuenta en este país de la importancia de la «positividad» en la formación universitaria, para su posible y posterior aplicación al mundo laboral?
Hablamos de profesionales ideales que queremos tener al frente de nuestras empresas. ¿Cuántos creéis que pueden ser dignos de tener conocimientos de esta asignatura?
Siempre decimos que la universidad es la «cuna del saber» y que se debe de adaptar a los tiempos. Pues en los paises anglosajones vemos que si se adaptan. Aquí, mientras tanto, los profesores universitarios, en un 75% nunca han trabajado en el mundo «real», nunca han salido de la universidad; y el otro 25% lo tiene como segundo trabajo «como un hobby». ¿Qué esperamos entonces, que capten las demandas del mercado laboral? Eso es imposible.
Universitariamente somos un país tercermundista desde el punto de vista de su aportación final al mundo laboral. La universidad es la cantera del mundo laboral y realmente en españa esto no sucede.
Es triste decirlo, pero es así.